The Perfect Place
for your Perfect Day…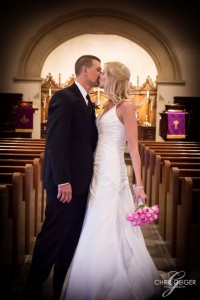 The elegant sanctuary and picturesque garden at Church of the Wayfarer is the ideal location for your Carmel wedding. The sanctuary is beautifully illuminated with candles, and is adorned with stained glass and chandeliers. The eighteenth century hand carved walnut wainscoting and ornately carved altar will add grace and warmth to your wedding.
Nothing is more beautiful than a wedding in Carmel-by-the-Sea. Our professional staff is dedicated in assisting you on this beautiful occasion.
We can help…
…make this most special day perfect.
Our desire is for your wedding to be everything you imagine.
We're here to help you start your life's journey together. Our experience and dedication will provide the calm and peace of mind that will enable you to enjoy your most important day.
Our rates and frequently asked questions can be found here.
For more information, ideas, or to begin planning your perfect wedding, please or you may call the church office at 831-624-3550 or email us to answer any questions or schedule an appointment. We look forward to meeting you.
Testimonials…
It has always been a dream to get married at the Church of the Wayfarer since I grew up in Carmel and went to this church every Sunday. Julie Morris, the wedding coordinator, helped make this perfect dream come true.
My husband and I live out of state so planning the wedding ceremony could have been a real challenge, but Julie made it very easy for us. She was very organized and helpful and guided us through each stage of the planning.
We had special requests like a mini reception in the garden for our guests as we took pictures. Julie set the whole thing up and even found a volunteer to pour the drinks for us. She found singers to perform a special song for us, took care of our live butterflies (for release instead of throwing rice), promptly took care of the marriage license, and found someone to video the ceremony! She handled so many little details that really could have overwhelmed us and that made all the difference.
Her demeanor was calm, caring but mostly just fun which makes it a pleasure to be around her. She made us feel very special on our special day. We cannot thank her enough for making our wedding ceremony flawless at this beautiful church.
— Kim & Shawn McEuen
Church of the Wayfarer
Lincoln Street at Seventh Avenue
P.O. Box 2205
Carmel-by-the-Sea, CA 93921
(831) 624-3550 – FAX (831) 624-2530