The Perfect Place for your Perfect Day
The elegant sanctuary and picturesque garden at Church of the Wayfarer is the ideal location for your Carmel wedding. The sanctuary is beautifully illuminated with candles and is adorned with stained glass and chandeliers. The eighteenth century hand-carved walnut wainscoting and ornately carved altar will add grace and warmth to your special day. Our professional staff is dedicated in assisting you on this beautiful occasion.
We're Ready To Help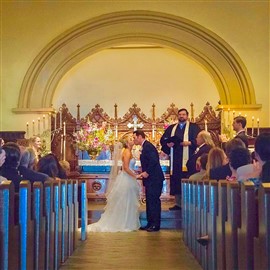 Our desire is for your wedding to be everything you imagine. Our experience and dedication will provide the calm and peace of mind that will enable you to enjoy this most joyful and special occasion.
Our rates and frequently asked questions can be found here. Better still, call or email our office manager who will be delighted to address all you questions and assist you in planning your perfect wedding day. Our phone number is (831) 624-3550.
Testimonials…
Hello Françoise!
We are long overdue in sending our sincere appreciation and a huge THANK YOU for all of your support and care throughout the planning of our wedding and on our big day! We have just returned from our two week honeymoon and had a lot of time to reflect on how special the day was for us and to have had the opportunity to get married at the Church of the Wayfarer – a more romantic place there can not be!!
We can't wait to come back soon to visit our brick! We look forward to staying in touch and will check in before our next visit to see if you will be in the area so we can say hello and thank you in person!!
The Church will always be such a special place for us and we look forward to many years of returns. A big big hug and thanks again from both of us!
Carolyn and Joel
---
---
My husband, Jim, and I were married at the Church of the Wayfarer. We live in Thousand Oaks, CA. Whenever we have the opportunity to visit your charming city, typically during an anniversary, we always stop by to visit our "brick" and spend time to speak with the Lord. Over the years, we have renewed our vows three times at the Parish, each time a very intimate service with the Pastor. Church of the Wayfarer is a special place. We even have an oil painting of the church in our home (by the late Thomas Kinkade). It is not just a painting, it serves as a symbol of Gods love, our love. A reminder of many things, it brings joy, it reminds us to be thankful, to be patient, to trust in our faith and sometimes simply to just smile. The Church of the Wayfarer has a special place in our hearts and a special affect on our hearts.
Each Pastor we have met at the Church of the Wayfarer has been so warm and welcoming. We will be at the Church this year on our Anniversary, to say a few prayers and give thanks to the Lord. Perhaps we shall see you as well. God Bless!
Donna O.
Church of the Wayfarer
Lincoln Street at Seventh Avenue
P.O. Box 2205
Carmel-by-the-Sea, CA 93921
(831) 624-3550 – FAX (831) 624-2530