Thank you for voting us Best Place to Get Married on the Monterey Peninsula!
Look What's Blooming today in the Wayfarer Garden!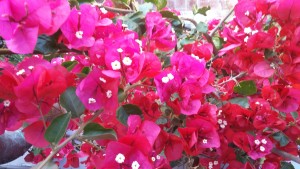 Church of the Wayfarer is a welcoming community of faith in the heart of Carmel. Our mission, in word and deed, is to be a wellspring of love, acceptance, and compassion in bringing greater wholeness to our world.
We're especially proud of our heritage as Carmel's oldest Protestant church, an integral part of Carmel-By-The Sea's unique history and daily life for more than a hundred years. Residents and travelers alike have found peace and friendship abundant within our doors.
So, whether you're seeking a church community for yourself or your family, or simply visiting our beautiful town, we invite you to join us at Church of the Wayfarer and to share in our glorious past as we create an inspiring future together.
Whoever you are and wherever you are on your journey of faith you are welcome here.  Our motto is simply: Discover the wonder of life through Carmel's Church of the Wayfarer, by
Reaching up to God
Reaching in to ourselves
Reaching out to others
Message from Pastor Luke Ham:
Whether you are looking for a new Church home or planning a special ceremony, the folks who make up Church of the Wayfarer are excited to meet you. This congregation is one of the most unique spiritual settings on the Central Coast of California and has been serving the people of Carmel since 1904. Our historic sanctuary is near the geographic center of the city of Carmel-by-the-Sea and is home to the oldest Protestant Congregation in the city.
In an effort to uphold the United Methodist Church's Motto of "Open Hearts, Open Doors, Open Minds," we keep our sanctuary open 7 days a week for visitors and members alike. Our beautiful garden also is open to the public and sees hundreds of visitors every single week. Worship takes place every Sunday at 10am and is open to everyone regardless of age and background.
We are a congregation that takes hospitality very seriously. We put on a free monthly BBQ in our Garden that is open to visitors, we have a wonderful fellowship hour every week after worship and we provide free cookies and drinks during special events in town such as the Concours on the Avenue car show. We also play host for community events and social services such as blood drives, political candidate forums, children's music concerts and the I-HELP program.
It is my hope that you will come visit Church of the Wayfarer and see all that God is doing in this special place! If you have any questions about how you can be part of the Wayfarer Family, I would be more than happy to meet with you and discuss how you can join us in our mission of making disciples of Jesus Christ for the transformation of the world.
Our sister church is Monterey UMC at  https://www.montereyumc.org/
Rev. Luke Ham