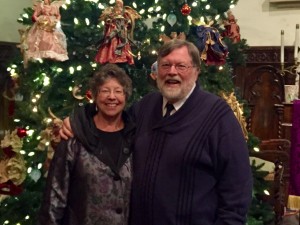 Rev. Dr. Mark S. Bollwinkel
Pastor Mark Bollwinkel has been a public speaker since the age of fifteen. At eighteen he received his license to preach.
Mark says today that preaching is his central focus and joy in ministry.
Mark graduated from the University of the Pacific and received his Doctor of Ministry and Master of Divinity from the Claremont School of Theology in Claremont, CA.
After seminary, he worked in Sarawak, East Malaysia, for three years, with his beloved wife, Bonnie, by his side.
Bonnie and Mark have been married for 40 years; we have two adult sons, Dan and Matt, and two grandpuppies.
Today preaching is his central focus and joy in ministry. He is a proponent of active community involvement and has served on the Board of Directors of multiple local agencies, including East Bay Habitat for Hu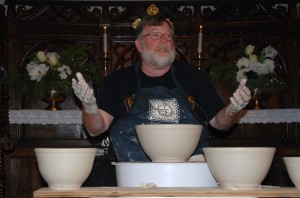 manity and Community Services Agency of Mountain View/Los Altos/Los Altos Hills.  Pastor Mark is certified for service on "hotline" suicide prevention phones and for police chaplaincy.
One of his hobbies that he's passionate about is ceramics. Known as the "Pastor Potter," he has studied, taught, and widely exhibited his pottery. He's a devoted fan of the San Francisco Giants, with encyclopedic knowledge of the team and its history! Pastor Mark also loves to cook and is an avid fisherman.
Services & Sermons
You can now watch our past services online.  You can also read them on-line at our blog.
Church of the Wayfarer Staff
Abby King
Office Manager
Phone: 831-624-3550
Email: office@churchofthewayfarer.com
Marshall Carpenter
Organist in Residence
Phone: 831-624-3550
Email: music@churchofthewayfarer.com
Carolyn Thomas
Brick Program Coordinator
Phone: 831-224-6460
Email: cbthomas8311@yahoo.com
Francoise Cheysson
Wedding Coordinator
Phone 831-498-3508
Email: weddings@churchofthewayfarer.com
Holly Heimer
Nursery Attendant
Phone 831-625-3550
Email: office@churchofthewayfarer.com
Main Office
(831) 624-3550
For office hours, location and Worship Service schedule, please see our About page.
To contact us via email, please visit our Contact page.