Join us the first Friday of every month for free guided tours of our stained glass windows and gardens.  The tours begin at 5 p.m. in the Sanctuary; the last tour begins at 6:30 p.m.
Founded in 1904, th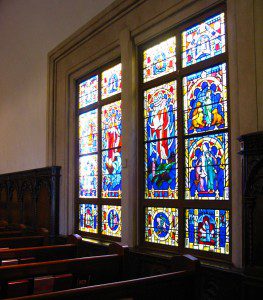 e historical Church of the Wayfarer is located in the geographical center of Carmel-by-the-Sea.  From its founding, the church has been a gathering place for the village welcoming weddings, memorial services, baptisms, music recitals, community meetings and, of course, weekly worship services.  Self guided tours are available daily, as the sanctuary is open during the day for prayer and meditation.  Among the historical items of interest are the Schoenstein organ, imported 18th century wood wainscoting and custom made stained glass in the sanctuary.
The Biblical
Garden was designed to feature plants and trees found only in Palestine and mentioned In the garden.  Featured in many publications, the garden also is host to many weddings and bridal photo shoots, as well as a welcoming place for visitors from around the globe.