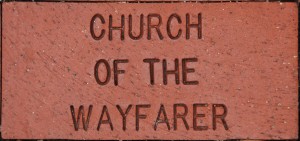 Etch your name into the history of Church of the Wayfarer while also supporting its future.
Brick donations are 100% tax deductible & considered charitable gifts to the Church of the Wayfarer.
Brick pavers are lovingly displayed in the courtyard and walkway around the Scripture Garden.
The 4" x 8" laser engraved bricks can be personalized with individual and family names, dates and special messages. The bricks are a marvelous way to recognize and honor families, friends and special Church of the Wayfarer memories.
Honor a loved one or leave your legacy on the beautiful grounds of Church of the Wayfarer with a Memorial Brick!
 Church Members: $300 donation
Non-Members: $400 donation
Contact our Brick Coordinator today!
831.624.3550 telephone